Highest Quality and Environ­mental Protection.
As a system provider, Koch‑Chemie pursues the goal of offering its customers the highest quality, innovations and coordinated services. In doing so, the Company always ensures that it operates in harmony with regulatory, political and ecological requirements. Koch‑Chemie is also committed to these high quality, environmental and social standards through various Management Systems.
Alongside our products, we have also constantly developed our corporate culture over the past few years. Thus, six elementary KCX values have emerged from the cooperation and ideas of all Koch-Chemie employees, which significantly influence us in our daily and future-relevant decisions.
Sustainability is one of these six supporting pillars. A fundamental way of thinking that is lived by every single team member and implemented in all areas of our company.
Our sustainability strategy is divided into two main objectives. All measures pursue one of these endeavors:
Climate neutrality of the company
Environmentally friendly products
Honesty with Certificate and Label.
We have made a conscious decision to use independent, already established labels and certifications and not to develop our own test marks. Behind the external labels that distinguish our products are strict, transparent guidelines with maximum credibility and significance, as our processes and goals are regularly reviewed.
Environmental Goals with DIN EN ISO 14001.
As early as 1989, with the launch of the Star range, Koch-Chemie took a pioneering role in sustainability and launched products on the market in accordance with DIN standard 14001. Since then, environmental goals and the well-being of this very nature have been firmly rooted in our corporate philosophy and our entire environmental management system has been certified according to DIN EN ISO 14001.
We use surfactants from renewable raw materials in the production of the various washing and care products. Furthermore, all surfactants and complexing agents used are easily biodegradable – even beyond the strict legal requirements. In formulations and production, Koch-Chemie dispenses with questionable ingredients such as halogenated hydrocarbons, EDTA and APEO.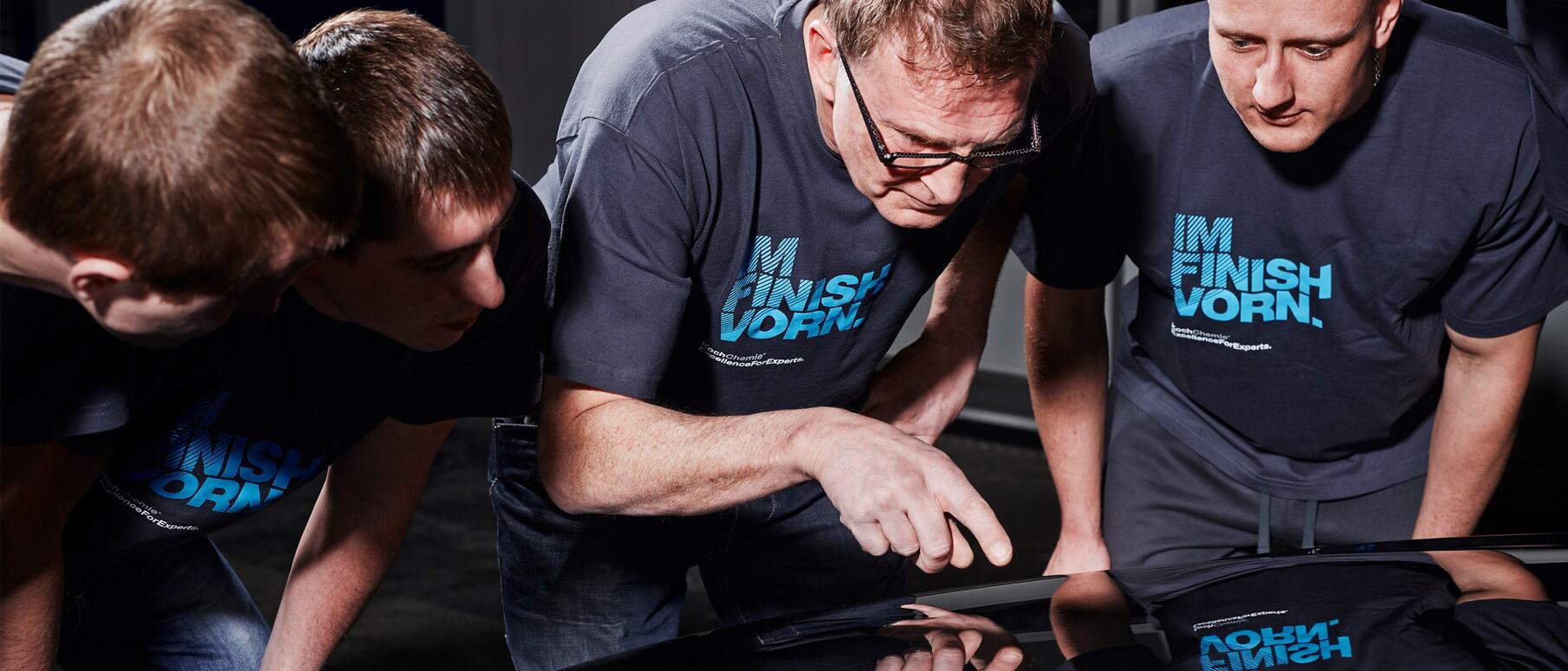 Conscious Environmental Protection.
Conscious environmental protection, strict adherence to laws and regulations and a complete quality and environmental management system ensure consistent top quality with the highest level of occupational safety. As a producer Koch‑Chemie knows 100% how the various products are composed. For the chemical manufacturer, the services also include ensuring that all customers and partners have the necessary documents for occupational safety and environmental protection. We provide meaningful and correct operating instructions, safety data sheets and accident leaflets. The consistent implementation of the Quality and Environmental Management Systems DIN EN ISO 9001 and DIN EN ISO 14001 is the prerequisite for worldwide manufacturer approvals.
In the spirit of continuous improvement, the Company is constantly developing the integrated Management System. For successful, goal-oriented work, it is essential that all employees can access this system easily and transparently at any time. This is the only way the organization can adapt to the dynamic requirements of the market and the company, while always ensuring product quality.